The crowdshipping mobile application MyBoxMan is going to be part of new Ford vehicles
22 February 2016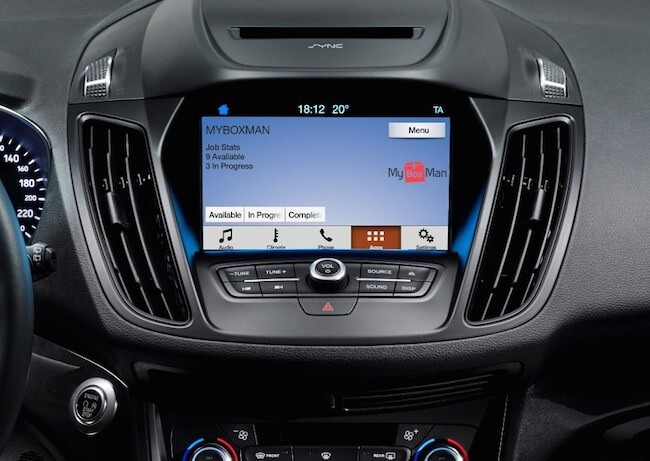 An automaker pioneer of alternative vehicles, Ford will make MyBoxMan compatible with its new vehicles with the latest generation of its 3 SYNC multimedia system.
Announced by Bill Ford, Executive Chairman of Ford during a Developers Challenge held in Dublin last year, MyBoxMan will become the first collaborative delivery platform to communicate directly through the cockpit of its future vehicles.
Launching in Europe this summer the Ford Mondeo, S-MAX, Galaxy and the new Kuga, will have multimedia system with SYNC 3 voice control features. Ford will integrate MyBoxMan directly on main screen of center console to enable Ford customers benefit from directly accessing this application and organize their deliveries.
Users only have to download this application on their smartphone for activation. Which then will linked to vehicle system through SYNC # technology, which enables the driver to interact with the vehicle by voice to search for available delivery jobs near its location.
The major advantages of this service:
Quick access to available published jobs on MyBoxMan
Fully automated application
Safe and convenient ride
"Working with Ford allows MyBoxMan to expand its offering and increase the prospectes of this new concept. Ford and MyBoxMan share the same desire for technological innovation and advancement for a smarter mobility " says Areeba Rehman, the founder of MyBoxMan
Innovation in collaborative e-commerce: the brand MyBoxMan
MyBoxMan was created by FretBay a market leader in transportation service. This application enable its users to be either work as a Box-Man or Send goods just for an average price of € 10 approximately.
In addition, through this application the driver can optimize routes and choose several jobs available on his route. Thus, this allows the Box-Man to maximum utilise his availability and increment his income.
The recipient will receive the package at a specified time previously instructed by Sender. It is also possible that to be delivered in the evening. So there are no more time constraints in the delivery.
MyBoxMan has a tracking interface, at any time of the day the Sender can track the package location status. Moreover, the fee is only charged once delivery is completed.
About Ford
Ford Motor Company, one of the leading automobile manufacturers in the world, based in Dearborn, Michigan, United States, manufactures and distributes automobiles across six continents. With nearly 199,000 employees and 67 plants worldwide, the company's automotive brands include Ford and Lincoln. Ford is also committed to the mobility market and intends to enrich the customer experience with new innovative and connected solutions (new urban mobility solutions, connected and personalized services, autonomous vehicles).
The Ford brand in France is a history of over 100 years. initially represented by a distributor since 1907, the subsidiary Ford France amounted in 1916 to become a major player in the French automotive industry. Ford France is now responsible for selling and servicing vehicles from the Ford brand in France. The subsidiary of Ford Motor Company also 2 factories at the industrial site of Blanquefort, in Gironde (FAI and TFG) and a logistics center in Estrée Saint Denis, in the Oise. In total, the Ford group in France weighs 2.5 billion euros and employs 1350 people. The brand also relies on a network of 278 agents and 362 concessions, totaling nearly 6900 employees and a turnover of more than EUR 3 billion. In 2015, Ford registered 103,104 new vehicle sales in the French market.
More information on the Mobile World Congress Ford Sync 3 : http://mwc2016.fordpresskits.com/
About FretBay
FretBay is an innovative market platform for individuals (80% B2C), providing an economical and ecological services to cater the needs of transportation of occasional and unusual goods (moving, transport motorcycles, pianos, cars, pets, appliances ...)
Today FretBay consists of a dozen employees, more than 500,000 users and 8,000 carriers. The service is available in nine European countries and also provides transport between Europe and the United States. Its mobile application is free to install on iOS and Android. FretBay available in five languages, including French and English.
FretBay was nominated "Best innovative organization between the feeder and the transport and logistics service provider by the SITL" winner "eco-innovative company" in the Val de Marne, and won the Golden Trophy E-commercemag in logistics category. www.fretbay.com
MyBoxMan was created by the company FretBay. MyBoxMan (www.myboxman.com) is a collaborative delivery platform nearby. The principle is simple: Optimize individual movements of members of our community to allow for more convenient delivery, more flexible and more economical.